VENUE
IPICS 2011 will be held at the Vienna University of Technology (TU) in the 4th district of Vienna close to the city center.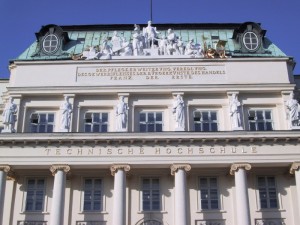 Please find the Venue Information (how to get to the venue, how to get to the accommodation and some general information about Vienna) here: Venue Information IPICS 2012.
ACCOMODATION (full registration pack)
Under the full registration pack (attendance, accommodation, public transport ticket, one lunch every day, coffee breaks and a social dinner, conference folder & gifts), participants will be accommodated in the Guesthouse of the Vienna University / Molkereistraße. Provided rooms will be one-bedroom units in a 2 – 4 bedrooms flat.
As the meeting point for the social events will be the offered guesthouse, taking the full registration pack is strongly recommended!
Facilities:
free Bedlinen
free internet access (RJ-45 cable required)
TV set
Telephone
Apartement facilities:
*Kitchenette
*Bathroom
Note: Students have to bring their own towel!
ACCOMODATION (basic registration pack)
For participants that wish to take care of their accommodation themselves (typically, this is done by choosing the basic registration pack), a list of hotels, located walking distance from the venue, is listed below (is comming soon). Due to the high touristic interest, early reservations is STRONGLY recommended.